Hi again everyone!  it's going to be a long post again but I hope you'll find it useful, maybe even interesting. It is going to be about food in Alanya – how to eat a delicious meal at a reasonable price and at the same time make sure that we try the specialities of local cuisine.
Volumes could be written about the richness of Turkish cuisine. Its variety, history, the range of various influences (Europe, Asia, Arab countries) literally blow your mind. Good food lovers should definitely visit this country and delight in the specialities of different regions one after another.
In one of my posts I've written about shopping and things you should buy before leaving Turkey – including food. But today I'm going to talk about the treats which are worth trying while you are still here. To make things more difficult, we are here in Alanya, the tourist capital of the Mediterranean Riviera, which is a typical small town overwhelmed by its tourist fame. Alanya doesn't have too many characteristic meals, culinary customs or traditions. It's a drawback which is a benefit at the same time. In this town we have an opportunity to taste many things coming from different parts of Turkey. Since many Turks from all over the country have come here to work, their family flavours mix and we can try them in their restaurants and 'lokantas'. On the other hand, finding a really good restaurant isn't easy. Unfortunately, some good places, which are a great discovery in one summer season, get totally spoiled in another one. Despite everything, you can still find good food in Alanya :)
Here is a short review of dishes, courses and delicacies which I recommend you to try during your stay in Alanya (or in Turkey generally). At the bottom of the page you'll find a map with all the restaurants mentioned in the text. Since the choice of the places has obviously been subjective, you're welcome to add your opinions as well as recommendations in the comments. I'm sure that many readers will find them useful ;)
What and where to eat in Alanya?
If there's the sea, there must be 'balık'
'Fish' means in Turkish 'balık' [pron. balyk]. Despite being a harbour city Alanya has very few fish restaurants, which puzzles the visitors. Well, Alanya's cuisine consists mainly of meat and vegetables… but still, we cannot complain 'cause there is lots to eat. We have two fish options to choose from: fish restaurants ('balık lokantası') near the fish market where you can eat cheaply and fast, OR some more elegant places ('balık evi' – literally 'fish house') with a large choice of appetizers, sometimes live music and… alcohol. Speaking of alcohol, according to Turkish people the anise-flavored Rakı is the best match for fish. Tell someone: 'RAKI ROKA BALIK' [pron. raky roka balyk] – this is the most common set: vodka, arugula and fish.
What can we eat?
Grilled fresh local fish ('ızgara balık'): çipura (sea bream), levrek (sea bass), tiny fish such as istavrit (horse mackerel) or kubbes which is typical for Alanya. Naturally, seafood, e.g. squid, is available as well. At the fish market, with the fish you're going to get some salad (made from tomato, onion, cucumber and greens with olive oil and pomegranate molasses poured over), some white bread and water. This kind of menu costs around 15 TL and tastes heavenly. You won't be served any alcohol here.
If you choose a fish restaurant with alcohol and music, it's going to be a bit more expensive, with a much wider range of 'meze' (appetizers).
The places worth recommendation are: Alanya Balık Evi and Kaptan Balık Evi.
There is no Turkey without a kebab
When I hear the common question: "Where can we eat the best kebab?", I don't know how to answer because the word 'kebab' doesn't stand for a specific dish but for the different ways of preparing meat on the grill ('grill' = 'ızgara'). The rotisserie may be horizontal ('şiş' – a well-known shish kebab) or vertical ('döner' – thinly sliced meat). The meat used for a kebab may be beef, mutton, lamb or poultry. 'Kebab' is served in various ways – it may come on a plate (in its classic form) with rice, grilled tomato and pepper, baked onion on the side (Adana kebab) or with yoghurt (Iskender kebab). But you can also eat a kebab in a 'fast food' form – wrapped in thin leaves of tortilla-like bread (lavaş). This wrapped version of kebab is called 'dürüm' – you can choose from poultry, beef and mutton. European kebab lovers, used to fat meat covered with piles of salads and garlic sauce poured over, may be surprised by these numerous options. And this is the beauty of the Turkish cuisine.
Fast Kebab
It's quite hard to find a typical 'kebab booth' here. Eating this kind of dish standing up isn't a common habit in Turkey. So, there's a wide range of better or worse 'lokantas' and restaurants. When you order a 'dürüm kebab', you'll get a plate with your meal wrapped in paper which you unwrap as you eat :) Your 'dürüm' will usually consist of meat wrapped in lavaş (you can choose mutton, poultry or beef). Accompanying ingredients are onion and parsley, nothing else. No garlic sauce, adding ketchup and mayonnaise is optional. Together with this classic dish you can sometimes get a small salad (tomato, greens, onion) and you'll definitely get an 'ayran' (yoghurt-based drink) which matches meat dishes very well. The cost should not exceed 10 TL. I recommend trying 'Adana dürüm' which is hardly available in Europe. It tastes great.
Recommended places: Derya Lokantası, Adana Ocakbaşı, Flash, Haydar Usta, Kaşıkara, Kolçuoğlu.
Kebab Feast
If you want to have dinner in a real 'Turkish way', you should visit one of the restaurants mentioned above, especially the last three. Prepare yourself to spend around 40-50 TL per person but it'll definitely be an unforgettable experience. First, you're going to be served a number of appetizers ('meze'). One or two of them are free of charge but to taste more than that you'll need to pay. Together with the appetizers you'll get a hot lavaş which is nothing more than puffed-up bread. You need to use your fingers to tear a bit of it which you can then use instead of cutlery to scoop some 'meze' :)
After an hour spent with the appetizers (in the meantime you can start tasting rakı, wine or beer) you're going to be served your main course, e.g. Adana kebab, Iskender kebab or so called 'metrelik kebab' (metre kebab – as long as the table, shared among the feasters – the speciality of Kolcuoğlu).
For vegetarians I recommend 'kiremitte sebze' – different vegetables (tomato, potato, champignon mushrooms etc.) baked in a clay dish.
Together with your main course you'll get some salad and after completing the meal you'll be treated to some fruit or a Turkish dessert. For example, Kaşıkara Restaurant serves an incredible baked halvah, which you simply have to try ;) After all that, tea or Turkish coffee is served as an 'ikramiye' – bonus which will not be included on the bill. Good restaurants won't charge you for water too but remember that alcohol isn't served everywhere (e.g. Haydar Usta is a non-alcoholic restaurant)
Turkish Pizza – what it may and may never be like
Lahmacun & Pide
Both commonly advertised as 'Turkish pizza', they don't look nor taste like an Italian pizza. The dough is much thinner and crunchier. Farinaceous food lovers should try these two:
PIDE – this is thin, soft and crispy boat-shaped dough with mincemeat stuffing or melted cheese stuffing. The further to the West of Turkey the more varied 'pide' is, e. g. you can get vegetarian filling such as champignon mushroom or multi-vegetal filling.
LAHMACUN – even thinner, crispy dough in a circular shape which need to be rolled before tucking into it.
Delicious pide and lahmacun are served in cheap restaurants such as Derya Lokantası, Flash or tiny Gül Pide. Additionally some salad and 'ayran' and we're nourished. The cost: between 8 and 12 TL.
Dimçayı – a unique meal in a Turkish style
Dimçayı is a place where people go to escape from the heat. It's a river in the mountains with many picnic facilities located on its bank. There are lots of restaurants with platforms floating on water, swimming-pools, water slides, fountains, and playgrounds for children. If you are looking for a place to spend a nice and refreshing day, you should visit Dimçayı and choose your favourite restaurant. Mine is called Regulatör Ada Piknik.
What can we eat there?
My favourite dish is river trout (alabalık) but chicken shish ('tavuk şiş') is available as well. The food offered here may not be of the highest standards but the atmosphere of the place matters. A freezing cold Efes beer or 'ayran' will do well here. As appetizers you'll be served 'lavaş' and 'haydari' (seasoned thick yoghurt), village butter, goat's cheese and 'ezme' (a spicy pepper paste). The cost: around 15 TL per person.
Sulu yemek – everyday food of Turkish people
If you want to try some vegetable meals, or you simply wonder what the eating habits of Turks are (obviously they don't consume various forms of kebab every day), you should visit one of ordinary Turkish 'lokantas'. They're cheap, poorly equipped and located in side streets. They're usually open in the daytime and mostly popular among people who work in nearby banks, shops or boutiques. The King of Oranges and I dine at a small place called Aran Lokantası. I'm giving you the name only because I'm sure you won't be able to find it ;)
Mini Mutfak is a good restaurant in the centre preferred by young people. Keskin Restaurant, near my workplace, serves good food as well. The system is very simple – there's nothing like a menu card, we simply show what we want to eat. You can ask for a bit of everything in order to taste various dishes.
The expression 'sulu yemek' literally means 'diluted food' so for example beans or chickpea in tomato sauce, chicken bites with vegetables in sauce or meat-balls in sauce etc.:) However, the sauce tastes nothing like European tomato sauces and it's very watery.
'Kızartma' is another interesting dish. It's nothing more than fried potato, aubergine, pepper and zucchini with a few spoons of cool yoghurt on top. 'Biber dolması' is a pepper stuffed with rice. In addition, take some 'pilav' (rice) or 'bulgur pilavı' (rice of wheat grains).
As far as everyday food is concerned, you can also try one of Turkish soups, e.g. 'mercimek çorbası', 'ezo gelin' (lentil soups), 'domates çorbası' (tomato soup) or 'tavuk çorbası' (chicken soup. They all are typical creamy soups served with some white bread.
If you are looking for more extreme experiences and tastes you should visit Flaş Restaurant or Şefin Yeri, where aside from those already mentioned you can try 'beyin çorbası' (made from sheep's brains), 'kelle paça' (made from sheep's head and foot) and 'işkembe' (made from tripe)…
Köfte and piyaz
Back to casual tastes :) 'Piyaz-Köfte' is a wonderful combination but need to be pre-ordered. The best 'piyaz-köfte' is served at Aran Lokantası in Alanya but in fact a small town Aksu just before Antalya (and its roadside restaurants) is famous for this dish. 'Piyaz' is made from white beans with tomatoes, onion and eggs in a delicious olive oil and lemon sauce. In our region some tahini is added as well. Additionally, on a separate plate, we get 'köfte' (small deliciously seasoned lamb meat balls), grilled green pepper and a pile of 'pilav'. On the grill, the meat is often covered by 'pide' or bread which is later served with the meal.
The cost of a meal at lokanta shouldn't exceed 7-10 TL per person. Meals with meat will be a bit more expensive.
A little snack in Turkish style
You don't have to eat huge meals consisting of God knows how many dishes to taste a bit of Turkish cuisine. During tiring sightseeing or shopping ;) it's good to eat something small. In the centre of Alanya, there is literally a café route along the main road. Next to well-known places like Starbucks or Burger King you can also eat and drink something more originally Turkish in one of numerous patisseries or 'pastane'. They're always crowded.
What is worth trying?
'Poğaça' [pron.po-ocha] is a kind of pastry with cheese, potato, olive or meat filling. 'Börek' is made from thin sheets of filo pastry in various forms with various fillings e.g. spinach, cheese, potato, mincemeat. It tastes like a softer and less fat version of French pastry. You can find these titbits at bakeries and cafés such as Hancı, Simit Sarayı or Simit Dünyası. As a drink I suggest you order Turkish tea or fresh orange juice :) The cost won't be more than 5-10 TL.
Simit culture
As you may have noticed, names of some cafés include the word 'simit'. It's a crispy pretzel with sesame, which can be cut in half and filled with cheese, salad, tomato etc. so that we get a kind of circular sandwich. But if you prefer holding such a 'simit' in your hands to eating it on a plate at a café, you should go to a person called 'simitçi' (simit seller). They usually work on the corners of streets. As far as I remember, one 'simit' costs 0.75 TL there.
You will find the best simit booth in the city centre (I've marked it on the map). The seller can cut a simit and spread some olive paste, processed cheese or even chocolate butter. Recommended if you missed your breakfast! :)
On the café route which I've mentioned, there is a tiny place called 'Çiğköftem'. Perfect for vegetarians! You can try a very delicious snack there – 'köfte' made from lentil, onion and spices.
As far as snacks are concerned, you need to try 'gözleme'. It's a kind of village savoury flatbread made from literally three ingredients with cheese, potato or spinach filling. It's very thin, crusty and delicious. We fold our 'gözleme' to form an envelope and enjoy its taste. You will get the best 'gözleme' from village old ladies e.g. on the Kale hill (2TL) but it's worth trying no matter where you come across it. Remember that the real village 'gözleme' is the most delicious!
How about…Turkish breakfast?

Turkish 'serpme kahvaltı' (spread breakfast) is a fantastic way of beginning a day. It's offered by many cafés such as Hanci or Çitirim at the price of 15-20 TL. But the best breakfast is served at Mado. As a matter of fact, the price is higher – 32 TL but the taste is…exceptional. It's served on a tray in small bowls full of varied goodies. Additionally, you'll get 'sigara böreği' (deep fried rolls with cheese filling), 'sucuklu yumurta' (scrambled eggs with garlic sausages), various kinds of cheese, olives, jam. Unlimited çay is included. The Mado café offers a great 'börek' and other breakfast wonders. It may be more expensive than other places but it's definitely worth it.
How to raise your blood sugar level or sweeten your life?
This post would be incomplete if I didn't mention the desserts. Every 'foodie' should try a few of the sweet inventions in Turkey. Fortunately, you can find them in Alanya as well. They are:
Maraş ice-cream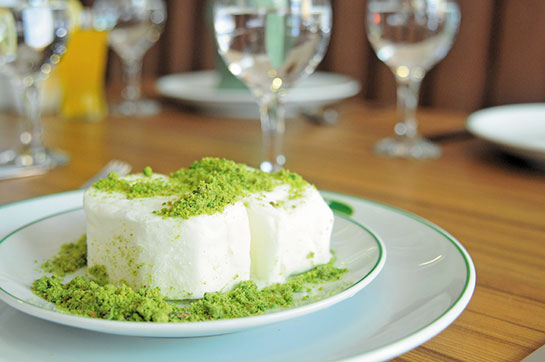 Delicious ice-cream made from goat's milk, natural and thread like. It's served in a cone, sundae or on a plate (so called 'kesme', you'll need a fork and a knife to eat it). Maraş ice-cream originates from Kahramanmaraş city and is available in the whole Turkey. Even serving the ice-cream becomes a kind of game between the customer and the salesperson. What kind of game? – You'll find out when you order ;) You should be in a good mood and have your camera on you.
Sütçü İmam (imam the milkman) is the best ice-cream shop. Except for classic vanilla and chocolate ice-cream you can also find fruit flavours sold in scoops. It'll still be made from goat's milk, with bits of real fruits, nuts or raisins. The taste is totally different than the one you're used to. It tastes nothing like any European or Italian ice-cream. Alternatively, you can visit Mado and try a more elegant ice-cream dessert there – Maraş one as well :)
Baklava, kadayif, künefe, antep fıstıklı sarma
They are different Turkish sweets that you can order per item or per piece at any patisserie. 'Künefe' is an exception to this rule since it's a dessert that needs to be ordered and then served by the waiter. It's a cheese pastry soaked in sweet, sugar-based syrup. One of the most popular places to try it is Keyif-i-Künefe where the dessert is served with ice-cream, some banana and milk to drink. I've heard that some new cafés offering 'künefe' have been opened but I haven't had an opportunity to check them yet.
'Kadayif' is one of my favourites but I'd never say 'no' to a piece of good, fresh baklava ☺ These two desserts are of Arab origination but have been present in Turkish cuisine and customs for centuries. They're extremely sweet, full of honey, served with a bottle of water to wash away the excess of sugar ;)
After consumption you can also order tea in order to get over it. You'll get these types of desserts at cafés like Hanci or Çitirim and ice-cream shops such as Sütçü İmam or Mado
Note for vegetarians:
As a person who does not really like meat, I understand really well how hard it's to find good vegetarian food. Although some meat dishes have been praised in this entry, I'd like to state clearly that Turkey is a paradise for vegetarians. In almost every restaurant and lokanta you can find vegetable dishes. I know it from my own experience – I sometimes happen to eat no poultry for weeks and I've never had any problems in choosing something from the menu card. If you want to make sure that a particular dish is without meat ('etsiz'), ask your waiter. It's better to use the word 'vejetaryan' (pron. vegetarian) because many Turkish people use the word 'et' (meat) to talk about beef or mutton. Chicken is simply 'tavuk' for them, so it's not meat. It's good to know that :)
If you liked my post don't forget to share it! :)
 Alanya Culinary Map
[Translated from Polish by: Anna Maria Bielecka]